Cooking With Morgan: Eggs Benedict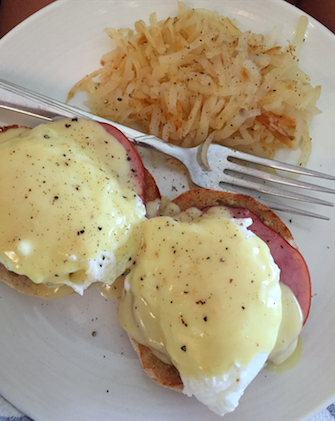 Welcome to Cooking with Morgan, a cooking series where I share some of my favorite recipes. This week in my blog I'm going to share a super savory recipe for a go to breakfast of Eggs Benedict with Hollandaise sauce when I have a little extra time!
Ingredients:
For the toast
2 large eggs
2 pieces of ham (thickly cut)
2 pieces of bread
salt and pepper to taste
Butter
For the Hollandaise Sauce
4 egg yolks
1 tablespoon freshly squeezed lemon juice
1/2 cup unsalted melted butter
A pinch of salt
Directions:
For the toast
Put two pieces of toast in the toaster until golden brown.
Place two pieces of thickly sliced ham onto a pan and cook until seared.
To poach eggs, put a large pot with boiling water onto medium high heat.
Add 1/2 a cup of vinegar to the water.
Wait for the water to boil.
When the water is boiling gently crack two eggs gently into the water.
Wait 2 minutes for eggs to cook (outside will be white, but yolk will still be runny).
Assemble the eggs Benedict with toast, ham eggs and then sauce.
For the Hollandaise sauce
Whisk the egg yolks and lemon juice in a bowl until it has thickened.
Place the mixture into a saucepan on medium heat and continue to whisk.
Slowly pour in melted butter and continue whisking.
Add a pinch of slat and the sauce is complete. Drizzle it over your toast!