The Path to Dayton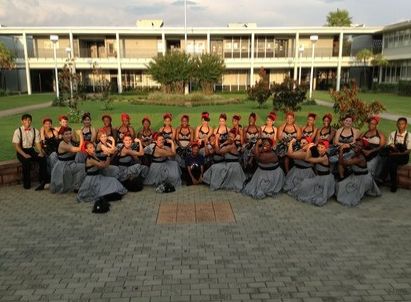 Football has been a tradition at Robinson High School for over 50 years, drawing crowds to nearly every game to cheer on the Knights. The halftime show at football games features the Marching Band and Starlets.
But after marching and football season, the Starlets shift gears to compete in Winter Guard. Guard is only in its fifth year of existence- less than a tenth of the age of their football counterparts. While they may be young, what the Starlets have managed to accomplish in those five years is more than some teams on campus could ever dream of doing.
Two years ago, the Starlets won first place in their division at the Florida Federation of Color Guard Circuit Championships, and went on to compete in the Winter Guard National Championships in Dayton, Ohio, placing 10th in the world out of the 105 teams competing, the first team in the county to do so. This year, they plan to do it again.
Junior Andrea Dent is a captain.
"I'm most excited about the winter guard, because of our world championship trip," said Dent. "It is so surreal, you go and see people that are so experienced that have the same dream and goal as you. Guard is it's own world outside of anything, and to be able to experience and share that with people all over the world is amazing."
Getting to Dayton, however, is not so easy. Even with the $350 marching dues from each Starlet, the team still needs money to help offset the cost of costumes, transportation, and equipment; last year, the Starlets needed about $15,000 in total.
To get this money, the Starlets hold fundraisers, like the Future Starlets camp that will be held this Saturday. The Starlets hope to have 40-50 children, ages 5-13, at the camp, which is also in its fifth year of existence.
At the camp, Starlets will teach the future Starlets a 2-3 minute dance routine that they will perform during halftime at the Leto game September 27th.
"Starlets camp is one of my favorite times of the year," junior Laneisha Flanigan, also a captain, said. "To see kids participate in something I love and enjoy, it is the best thing to see."
To find out more about Future Starlets Camp and other Starlet events, click here.