About Us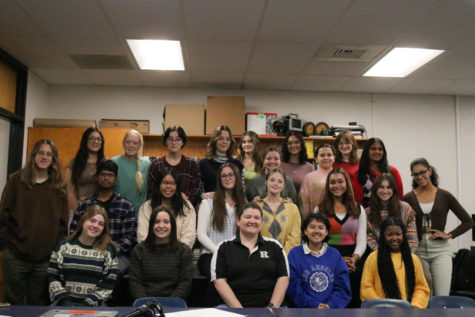 Knight Writers is the student-run news site of Robinson High School in Tampa, Fla. and serves the many students of Robinson, its staff and the surrounding community. We strive to publish consistently throughout the school year, excluding non-student days and breaks. Knight Writers uses SNO (School Newspaper Online) to manage our content. Our adviser Nancy Webster also advises Excalibur (Robinson's yearbook), Knight Writers (our print newspaper) and Knights News Network (TV production). Knight Writers is dedicated to providing timely, relevant and objective news and information.
Editorial Policy: Our editors are selected in cooperation with Mrs. Webster and the Editor-in-Chief. While all staff members have a voice in Knight Writers, our editorial board makes decisions on stories, edits said stories and is always looking for ways to improve our paper. Every story on Knight Writers has been looked and corrected at by an editor.
Comments Policy: Comments are approved by the editorial board, and once published, display the commenter's name. Comments that are rude, irrelevant or obscene will not be approved.
Social Media Policy: Our social media aims to be interactive with our community and provide quick and concise information. Our posts are made by staff, and our accounts are managed by our adviser and editors.
Advertising Policy: Knight Writers is always looking to work with our community to include ads. Ads are 25 dollars for a print issue, and for placing an ad an Knight Writers, please contact us for more information. To buy an ad or learn more about our ad policy, please contact us.
Code of Ethics: Knight Writers holds ourselves to the highest standard in providing objective and comprehensive news. It is our goal to always ensure that our staff is objective and mature in their writing. That being said, individual opinion pieces reflect the view of the contributor, and do not correspond with the view of the staff as a whole. If any violations to this code occur, our editorial board and adviser work to fix the issue and edit any corresponding mistakes.
For more detailed versions of our staff policies, click here.
Contact us at rhstod[email protected] with any questions, comments or concerns, or click here.
Adviser: Nancy Webster
Twitter: @robinsonknights
YouTube: Robinson Knights
Instagram: @rhsknightwriters