Head to Head: The Taylor Swift Era
March 22, 2023
American pop sensation Taylor Swift's The Eras Tour recently kicked off in Glendale, Ariz. on March 17. With the artist coming to the Tampa Bay area to perform at the Raymond James Stadium for three shows in a few weeks, excitement and adoration for Swift has grown around campus.
A&E Editor Cecilia Cheng and News & Features Editor Vikram Sambasivan debate whether or not the current hype around Miss Americana is worth it.
What If I Told You She's a Mastermind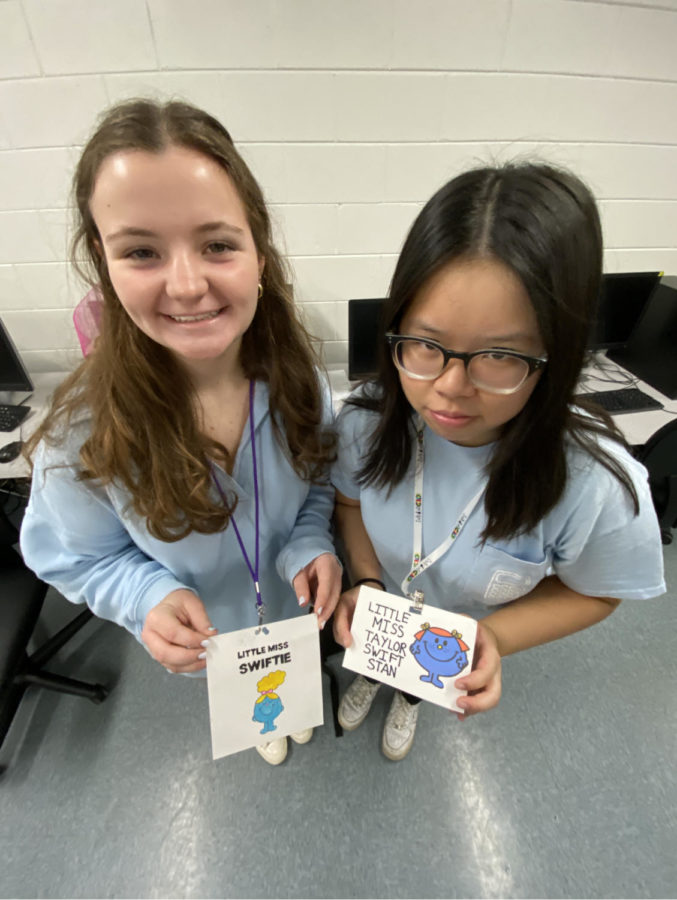 Photo Cecilia Cheng
From a young age, many of us look up to people who we see to be our role models. For me, it wasn't my mom or my dad or my grandparents. It was Taylor Swift.
I've listened to Swift ever since I was a little. I can still vividly recall back to the day "Red" came out. It was 2012 and I was in second grade. I had just gotten home from school, and I immediately went over to my parent's big desktop computer to search for the album on YouTube. Nowadays, I am still obsessed with her music and will stay up until midnight for her newest releases.
Admit it, Taylor Swift is the music industry. Her music is more than just 'stupid little love songs.' All 229 of her songs tell a story, from "Tim McGraw" on her debut album (that she released at just 16) to her latest song, "Mastermind" on her newest album. And yes, she writes every single one of her songs. From growing up to friendship to revenge, there is something for everyone. My personal favorite though would have to be "Mirrorball;" the song includes several metaphors that tie back to never being good enough for anyone.
Now you may argue that her music is bad, but the number of awards she has won says otherwise. Swift has received a whopping total of 556 awards in her career: 12 Grammys, 29 Billboard Music Awards, the list goes on. Just with her most recent album "Midnights," Swift broke three Spotify records within 24 hours.
Not only is her music good, but (although some might disagree) I personally think Swift is genuinely a good person in the heart, unlike many artists in the industry. She often does charity work, as well as speaks out on issues like women's rights, LQBTQ rights, eating disorders and much more. This isn't something you see often; a lot of artists hide their perspectives on issues, as they fear they'll become the center of controversy, but Swift has nothing to fear and is loud and proud of what she believes in.
But I always feel like she's getting some kind of hate. For instance, some people only know of her from the Kanye West drama that happened at the 2009 VMA awards. Now personally, I think West is in the wrong; I mean who interrupts someone in the middle of their speech and then proceeds to go on about how the person didn't deserve the award? Others also judge her for the number of relationships she has been in, but at the end of the day, she's still human and that is her choice. How would you feel if you had to face negative comments about who you are with from people all around the world?
No matter what people say, one thing will stay the same: Taylor Swift will always be someone I aspire to be. She can sing, act, dance, and write, I mean what can this lady not do? At just 33, she has been named TIME magazine's "100 Most Influential People in the World" not once, but three times. Just by doing something as simple as songwriting and singing, Swift's music has allowed people to connect with each other on a different level. Taylor Swift is truly an unstoppable force.
Leave a Comment
Taylor Swift is the Musical Equivalent of McDonalds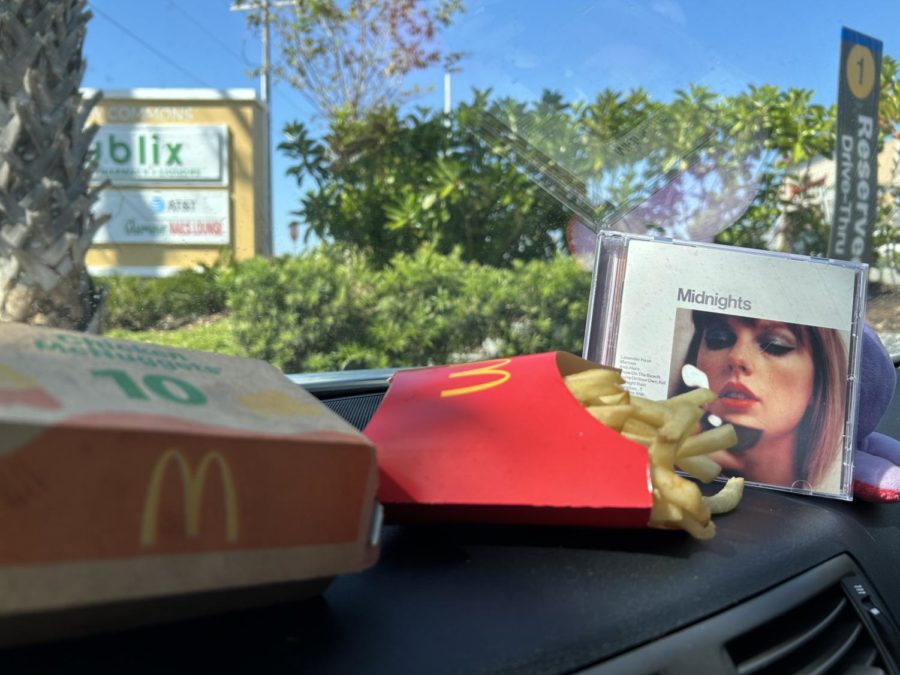 Photo Juno Le
When I was a child, around seven years old, my sister got Taylor Swift tickets for her Christmas present. My parents told me that I could go with her and they would purchase an extra ticket so that I could have my first concert experience. I said that I would rather go deaf. 
It's pretty apparent that I'm not a fan of Swift's music, but I cannot speak to the quality of her music as I have no credentials to do so. I can, however, comment on her lyrics. 
Almost every single Taylor Swift song is about Taylor Swift. What does this mean? This means that they comprise of essentially three emotions: love, revenge/hate, friendship/the ending of one. Essentially, they encapsulate the range of emotions felt by your average fourth grader. Personally, I abhor these songs, but I have to applaud Swift's method: her adoption of the Mcdonald's Method.
The Mcdonald's Method, with regards to making burgers, is essentially the employ of an assembly line to increase the efficiency of their production. I will break down Swift's process into three simple steps:
Have a Bad relationship: An example of this is her relationship with John Mayer which she then turned into a very thinly veiled breakup anthem titled "Dear John"
Write Uninspired Lyrics: This is perhaps the most important stage of the process. Swift creates unsophisticated lyrics in an attempt to have her songs relate to as many people as possible, yet by doing so, she creates very shallow music; writing poetic lines such as "It'll leave you breathless, mm, Or with a nasty scar."
Generate Revenue: Mcdonald's sells 550 million Big Macs Per Year. Why? It's because they're palatable to a wide range of people, not because they're especially tasty or complex. The same logic applies to a Taylor Swift song. They generate so much income for her because they're palatable to a wide range of people, speaking to emotions we all feel. However, the only way that she can do that is by watering down whatever feelings are in the song to the point where they become EINOs, Emotions In Name Only, shells of their true selves.
With such a large platform, such a great person, like Swift, should logically speak about important issues, and not just try to one-up her past significant others by exposing relationship issues to an audience of millions of tweens and exploiting them for profit. Some artists use their platform to write songs about gang violence, abuse, suicide, etc.; they devote their efforts to something important to them and the world. 
One can say that Swift does enough with her tweets, Instagram posts and charitable donations. But, giving is about the amount of effort you put into something, not the amount of money you throw at it; and, Swift has no larger means of affecting change than through her music. She, however, decides to throw this outreach away on deeply profound and insightful quotes such as "haters gonna hate." 
I cannot argue with the numbers that she puts out. She breaks inconceivable records, has won a dozen Grammy's and almost 30 Billboard awards. At 33 years of age, she has an estimated net worth of $360 million and was named Time's Person of the Year in 2017. What does this prove? 
It says a lot about her. She's definitely an outstanding salesperson to be able to profit from such mediocre work. But time and again, she's run into scandals concerning the origins of her lyrics. 
For five years, Swift was involved in litigation against songwriters Sean Hall and Nathan Butler for stealing the lyrics to "Shake it Off" from their song "Playas Gonna Play" which was released by the Hip Hop group 3LW in 2001. This case was settled in Dec. 2022, and while the details of the settlement are unknown, it does mean that Swift does avoids taking her chances with a jury. 
Swift, in all her glory, seems to be the musical equivalent of a fast-food restaurant. Low-quality products which all seem to be the same, and high-profit margins. I for one am tired of hearing yet another version of the same old "Love Story."
View 1 Comment