A Day in the Life: Meeting the Band
A Day in the Life is a series run by RHStoday's profiles staff which highlights memorable or important days from student's life in an anecdote-style fashion. With story ideas or questions, please contact Kaitlyn Corwin or Ashlea Daniels.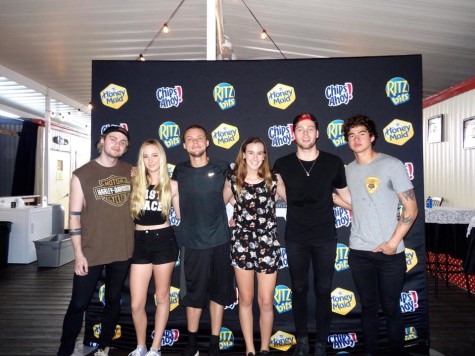 When Claire White ('18) entered 93.3 FLZ's 'Who's the Biggest Fan' contest  to meet Five Seconds of Summer, she started texting her friends daily, reminding them to vote for her in hope that she could win. Unfortunately, she didn't win the contest, but, by chance, she managed to meet her idols.
The day before the concert, a friend whose mother has connections with Nabisco, the sponsor of Five Seconds of Summer's tour, had eight meet and greet and sound check passes and asked Claire and her twin sister Tara White ('18) if they wanted to go.
When the sound check started the next day, the girls sat up close to where the band was doing their set.
"At sound check, they were saying the names their parents were going to have [given] them, like Luke was going to be named Zooey," said Claire. "And they said that they thought it was really weird that in Florida, we wear neon colors like aqua out to stores."
After the sound check, Claire and Tara got to meet the band.
"It was really quick," Tara said. "I was really happy, but it wasn't overwhelming,"
"They just seemed like really normal people," added Claire.
Claire and Tara already had tickets to the concert, but were upgraded when they got the meet and greet tickets. Being closer to the stage got the twins closer to the action and the fans who went out of their way to get noticed by the band.
"Somebody wrapped their arms in lights. Like instead of making a sign, she wrapped her arms in lights and held up their arms during the show. It was weird," Claire said.
Claire and Tara agreed meeting their idols made them seem more relatable than other stars.
"My favorite part was being so close to them, and feeling like we were just hanging out." said Claire."We got front row for sound check, so we were really close, and even then, they still just seemed like normal people… plus Luke looked at me."