Changing the Game
Behind the new ELP requirements for athletes
Student-athletes line the hallway outside Niki Lockett's office, blue slips of paper in hand. One by one, they walk in, trading their blue slip for a green sheet of paper. All of these athletes are currently in-season, participating in one of the six spring sports offered. Spring sports are well underway, but the paper, which outlines a brand-new athlete ELP rule, has the power to affect the rest of their seasons.
The rule itself, created by Lockett, the Assistant Principal for Administration (APA), is straightforward. Starting immediately, all in-season freshmen athletes are required to attend ELP, a study hall, for one hour directly after school. The amount of ELP depends on GPA: athletes with a 3.0 or higher attend once a week, those with lower GPAs attend twice. Additionally, any other in-season athletes with a 2.25 or lower are required to attend twice. The requirements are part of a district initiative to have all ninth grade athletes and athletes with lower than a 2.25 attend some type of study hall.
According to Laness Robinson, the Director of Athletics for Hillsborough County, the initiative has been in place for four or five years.
Not every school has the same plan-each APA submits their own plan to Robinson's office.
At Chamberlain, all athletes, regardless of grade, are programmed for weekly tutoring once a week, according to APA Don Hill, with each sport having a day for tutoring.
At Alonso, teams do their own study halls with athletes, said APA Brian Grantham.
And, according to APA Laura Figueredo, Plant simply has "a variety of programs set up to maximize learning."
But with the rule in place at Robinson, not all athletes are affected equally.
IB students, who all have at least a 20 minute study hall (JA) programmed into their schedule, can use their JA to replace any necessary ELP as long as the weekly time requirement is met. As most IB freshman have a 90 minute JA every day, the majority of IB athletes affected can exempt out of after-school ELP.
Traditional students, who have no equivalent JA-like option available to them, must meet their requirement by staying after school. To many, this means missing out on valuable practice time.
Lockett is quick to point out that the ELP is meant to help, not hurt, athletes.
"It's a study hall, not a punishment," she said. "It's a chance to get stuff done."
And why make the rule only for athletes?
According to Principal Johnny Bush, the school only has the power to require something after school if the student's school day does not end at 2:45 p.m., which would be true in the case of an athlete. It is not true, however, with a student in music, journalism or other extracurricular activities, even if they require similar time commitments.
"I think it's going to come under scrutiny, because how do you tell the flag football team, who had the highest [team] GPA in the state last year, that they have to study after school?" he said. "[But] Mrs. Lockett has the right to do that, and at the end of the day, it's academics over athletics. Life's about academics, it's the No. 1 thing you need for college."
Even so, for athletes affected by the new requirements, the timing of the ELP leaves something to be desired.
"I really don't like it, because it's cutting out time for sports," said flag football and lacrosse player Kendall Bernstein ('17). "I do my work, but it's not like I'm getting any extra help. If they had it before school, it would be ten times more convenient."
Softball player Jennifer Oliva ('17) agreed.
"It'll help my class grades, but I have to miss an hour of practice a week," she said. "I feel like I should be out there practicing third base."
Leave a Comment
Your donation will support the student journalists of Robinson High School - FL. Your contribution will allow us to purchase equipment and cover our annual website hosting costs.
About the Contributor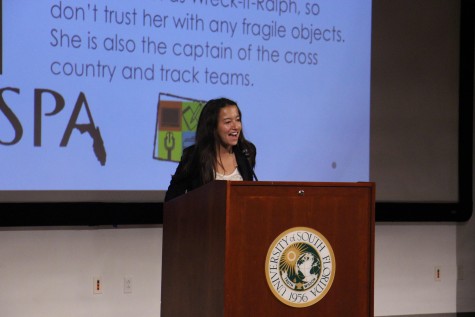 Isabel Hanewicz, RHStoday Editor-In-Chief
Isabel Hanewicz is a senior at Robinson High School and is the editor-in-chief of RHStoday. She was named the 2014 Emerging Young Journalist of the Year...