On Center Stage: Five Questions with State XC Qualifier Dannys Marrero
As the fall sports season comes to a close, we take a look at all state qualifiers from fall sports: volleyball, swim and cross country.
Senior Dannys Marrero is a captain of the cross country and track teams and placed tenth in the 3A-3 regional meet to secure a berth in the state championships at Apalachee Regional Park in Tallahassee, held Saturday, Nov. 7.  
This was Marrero's first trip to the state championship as well as his first season running cross country for the Knights after moving to Robinson midway through his junior year from New York. Marrero placed 50th in a field of 184 runners with a new personal best time of 17:01.72, shaving almost fifteen seconds off his previous best time.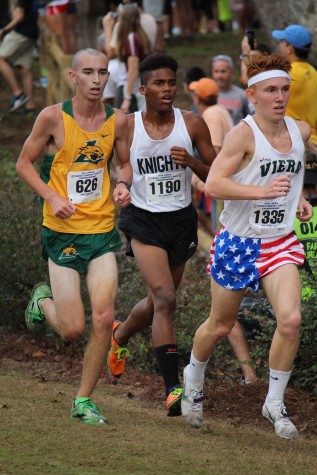 Q: How did you feel once you knew you qualified for the state meet?
A: When I realized I was going to the state meet, I seriously cried after gaining back my sanity. I kept repeating to my mom "I made it" while she dragged me away from the finish line.
Q: Was it hard not racing with your team at states?
A: I think my State experience would have been better if my team would have been there with me, but I guess it wasn't meant to happen.
Q: Describe the race. Was it more nerve wracking than usual? How did the first mile feel?
A: Right before the gun went off I was a bit nervous but Coach [Altimari] told me that I earned my spot there. So I told him, "I absolutely deserve to be here, coach I'm ready, let's do this."
The first mile was a struggle! Everyone knew that everyone would get out too fast and that it would be a "who can keep it up the longest" race, and we did, I passed that mile at 5:02 which for me was insanely fast.
Q: How was the course as a whole, since you hadn't run it before?
A: The course wasn't hard, it was mainly all downhill so it was nice. I compared it to Van Cortlandt and all the other courses I ran in NYC because it seemed like a combination of all of them.
Q: Looking forward, what are your goals for the upcoming track season?
A: My goals for track are to make it to states either in the mile or the 2 mile or both, and to make sure I end my high school career with a state championship medal.