Soccer Recap: Plant at Robinson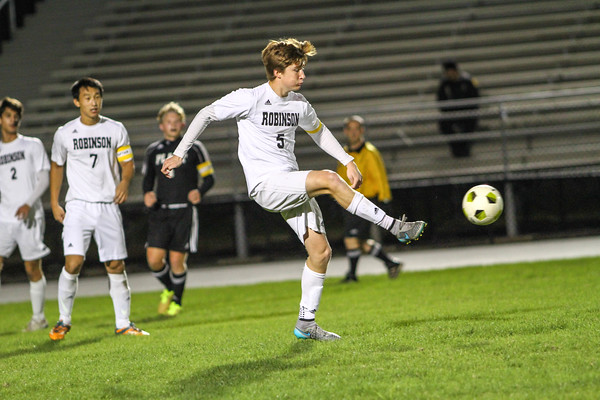 With the regular season winding down, both the boys and girls soccer teams hosted rival Plant for senior night. Both teams managed to pick up some confidence heading into the postseason.
Boys Gain Confidence in Tie
After an up-and-down season with progress and struggles, Wednesday night proved to be a big step forward for the Knights. It took a solid performance to finish in a 0-0 tie with Plant.
"Playing to a tie against them really proves our ability to make a stand against tough opponents," Charlie Draper ('17) said. "This will hopefully motivate our team to put forth full effort against teams like Jesuit that we will see in districts."
The Panthers controlled the game, but Robinson held them off and picked up a big confidence-booster as postseason play approaches.
"Our final game before playoffs is against undefeated Newsome. If we can play a solid game against them, that should get the team into the mindset that we can beat anyone who challenges us," Draper said. "We hope to make a long run in districts this year."
The Knights' matchup with Newsome is on Friday at 8:00 p.m.
Girls Put Up Strong Performance in Loss
Despite outplaying Plant, the Lady Knights dropped a tough 1-0 decision on senior night. One bad break cost Robinson a chance at a rivalry win.
"We did everything right last night, we just weren't able to finish our opportunities," Megan Bohan ('16) said. "I'm very proud of the way we played last night."
The two teams were scoreless at the half and it took nearly 20 minutes for Plant to find the back of the net in the second. Goalkeeper MacKenzie Johnson ('16) stopped everything that came her way for the rest of the night, but the Lady Knights couldn't break through for the equalizer.
"I think how we played last night was a huge confidence booster for the post season," Bohan said. "I think after last night's performance, we'll see a change in attitude as girls start to believe that we can be really good."
Robinson hosts Newsome on Friday at 6:00 p.m.