Cooking with Morgan: Green Goddess Cobb Salad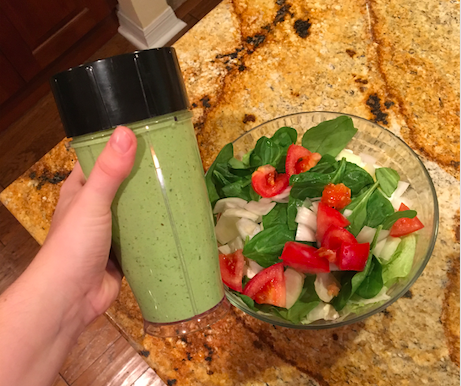 Welcome to Cooking with Morgan, a cooking series where I share some of my favorite recipes. This week in my blog I'm going to share a go-to salad and dressing recipe of one of my favorite salads!
Ingredients
Salad:
3 cups of Lettuce (I prefer iceberg)
2 Hard boiled eggs cut in half
1 tablespoon Feta cheese
1/4 small onion diced
1 tablespoon diced ham
1/2 a tomato, diced
Dressing:
2 tablespoons of mayonnaise
1 cup of greek yogurt
1 tablespoon of pesto
2 cups of fresh spinach
1 teaspoon of lemon juice
1 clove of garlic
Directions
Place all ingredients for dressing in a blender and pulse for 1 minute
Place 1-2 tablespoons of dressing on salad mix well and enjoy!