A Full Spectrum Of Swift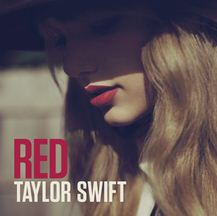 Taylor Swift, Red
(Big Machine Records)
Grade: A
There are few people in the music business that can claim a record as clean as Taylor Swift's. Since her early teenage years she has staked a place as one of the biggest acts in the world, doing so without any major public breakdowns, scandals, or shenanigans there to bog her down (I'm looking at you John Mayer). Her new album Red continues her legendary nice-streak, but does so with some excitingly experimental touches.
The world has come to know Swift as a country pop titan, a prized product of Nashville. With Red she steps into new territory, shifting into more direct competition with artists like Katy Perry and Lady Gaga. Don't get me wrong, her songs are still almost exclusively about her evil exes and are radio ready for the ears of elementary schoolers everywhere, but she has definitely done a bit of remodeling. The most notable change, the accompaniment of sonic synths and modulated bass with her trusty acoustic guitar, gives the impression that her next musical destination may be the dance floor.
State Of Grace, the first cut on the album, primes fans for new material and a new side of Swift. Today's Taylor speaks about guys who may have some demons to live with, rather than her typical "You Belong With Me" Prince Charming. In the title track, Red, she confesses that "loving him is like driving a new Maserati down a dead end street." Before listening to Red I suspect most of T-Swizzle's fans had her pegged for pickup trucks, or maybe a VW Bug- I know I did. And honestly, even with the new directions that she has taken with her latest LP, I still can't even begin to imagine her behind the wheel of anything that goes zero to sixty in the pluck of a guitar string.
The record receives a static shock to the system in the chorus of I Knew You Were Trouble, decked out in layered vocal effects and a smile-inducing dubstep beat. One year ago, the thought of Taylor Swift and dubstep together would have sounded ridiculous- yet here it is. Her song 22 later follows in the same vein, a track that will easily become the go to jam for hit radio stations from Cali to Washington.
Swift's southern accent shines brightly in the very lighthearted Stay Stay Stay, a song in which we learn that the key to her heart is carrying her groceries. The Last Time (featuring the vocal talents of Gary Lightbody of Snow Patrol) sounds more like a Snow Patrol project featuring Taylor Swift, but is still perfectly passable. Finally, the songwriting prowess that Taylor was originally picked up for is showcased in the phenomenal country ballad The Lucky One. She takes a look at what it really means to have your name up in lights, considering the path of another star who, as she says, "chose the rose garden over Madison Square."
Red is a giant leap for Taylor Swift. She has more options than ever and you can bet your ten gallon hat that she is going to take full advantage of them. Swift knows (and sings with Ed Sheeran) that everything has changed. Though this may be true, some things, like the power of the diary inspired songs that built her, will always stay the same.