Review: Yummy is distasteful
Bieber's new song, "Yummy" doesn't settle well when heard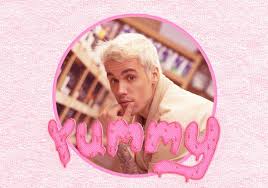 Four years after Purpose, Justin Bieber returns to music with new song "Yummy." Bieber never lets the listener forget the song's name, with the chorus being annoyingly repetitive. The rest of the song hides in the shadow of the chorus, inaccurately portraying what he's trying to do in his new era of music.
The song starts with the chorus, consisting of the never-ending lyrics of "yummy-yum" and "yummy-yummy" and it could either be referencing getting food at a drive-thru restaurant or his wife, Hailey Bieber. The chorus can be seen as the more upbeat and friendliest part of the song, yet it makes you wonder how many times can Bieber say yummy before getting tired? Despite the actual lyrics being bad, it's an attempt at a song about relationships and being grateful for your significant other.
Although it isn't the most appeasing part of the song, the first verse was a slight improvement from the chorus. It's an insult to the music genres to say this, but "Yummy" is failed attempt at R&B and rap. Bieber refers to his wife as a "bonafide stallion," which can be slang for "tall, fine girl" according to American rapper and singer, Megan Thee Stallion, confirming that the song is more about pursuing his wife and not food.
Bieber establishes wanting to share the wealth he's accumulated with his wife, in ways like buying whatever she'd like and other more personal aspects. The intimacy of the pre-chorus is wrecked when it's followed by the never ending chorus, which kills the mood, and it's a breath of fresh air when it reaches the second verse.
The singer's been through a roller coaster ride in previous years, so his mental state wasn't at it's best.  Bieber implies how his wife has kept him "on the rise" in helping him with the difficult circumstances he's faced as well as him knowing that she's there for him. The "supplies" he says that she has are likely the ways in which she's helped him cope, all done in a loving way.
His bridge to the chorus has to do more with how being alongside his wife acts as an escape from the real world and away into a paradise but the singer doesn't hesitate to promote his clothing line with lyrics "Drew House slippers on with a smile on my face," referencing the smiley faces on the slippers.
It's a new era for Bieber, one that may not be enjoyed by some, and it's going to focus more on the happy couple and their life together, as well as slips of promotions about Drew House, but no one's stopping him. His song, "Yummy" isn't Purpose material, so I expect the upcoming album to be a surprise, only if his R&B styled lyrics improve in the other tracks. Yummy will be immediately skipped if I hear it on Spotify, because I cannot stand to hear "yummy-yum" any more than I have already.