CAVA is the New-Casual Fast Food of the Future
Healthy, satisfying and full of flavor.
If you are looking for something exotic and different, this is the place for you. CAVA is the latest restaurant in South Tampa with a Mediterranean flair. Its menu offers many different options such as wraps, bowls, sauces and dips. I especially loved CAVA because of it's bold and vibrant flavors.
Not only is CAVA a new restaurant, it is also modernized. They take the time to purchase their ingredients locally and based on what foods are in season. They team up with nonprofit organizations and the community to promote healthy eating and urbanization as well.
When I go to restaurants, I normally have a hard time choosing what to pick from, so I chose to order a pre-made option. I ordered the sweet and spicy chicken and the Greek salad. The sweet and spicy chicken was spicy, tangy, rich in flavor and filled with juice and crunch.
My personal favorite though was the Greek Salad. It was filled with tart arugula, olives, charred grilled chicken and garlic and dill dressing.
CAVA means wine cellar in Greek and the restaurant is all about celebrating good vibes, thoughtfulness and spirits. I definitely felt this through the food and the customer service. I would recommend CAVA to anyone who likes fast and casual food and I will definitely be back.
Ordering is an experience of its own. If you are someone who has trouble deciding what to order, CAVA offers pre-made chef-curated bowls to make the decision easy for you or you have the choice of customizing your order to your taste.
The first step to customizing your order is starting with a base. For your base, you have a choice of salad, greens and grains bowls, rightrice (CAVA's alternative of rice), pita bread and mini pita bread.
After you choose your base, you move on to picking your dips and spreads. You have a choice of up to three dips and CAVA offers a variety for you to choose from classic tzatziki, crazy feta, roasted eggplant, hummus, harissa or red pepper hummus.
Next, you are able to choose your protein, which composes of falafel, grilled chicken, spicy lamb meatball, grilled meatballs, harissa honey chicken, braised lamb or even roasted vegetables.
Moving on, you now have the choice to pick from an unlimited choice of vegetables including shredded romaine, pickled onions, cabbage slaw, Persian cucumbers, crumbled feta cheese, avocado, salt-brined pickles, tomato and onion salad, kalamata olives, tomato and cucumber salad, fire-roasted corn, and lentil tabbouleh.
Finally, after creating your order at the bar, you now have the choice to top it all off with the dressing of your choice to go over your salad or on the side too.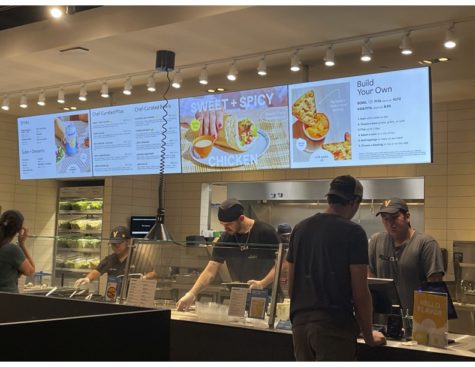 I would recommend CAVA to anyone who likes fast and casual food and I will definitely be back.
IF YOU GO:
Address: 942 S Howard Ave, Tampa, Fla., 33606
Phone Number: 813-587-0172
Hours: Monday-Sunday 10:45 a.m. to 10:00 p.m