Teacher Feature| Ronald Simmons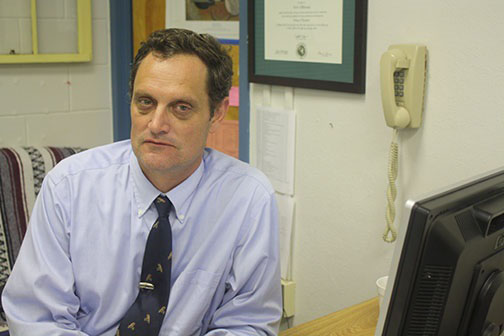 Freshman World History and American Government teacher Ronald Simmons is undoubtedly one of the most unqiue teachers at Robinson High School.
Simmons attended Maumee Valley Country Day School in Ohio, then  later attended the University of South Florida where he majored in Teacher Education and History. He studied at USF for a total of eleven years and eventually received his PhD in Curriculum and Instruciton.
Outside of school, Simmons enjoys working in his garden, jogging, and playing the piano.
When asked if he exhibited any special talents, he listed his ability to speak Japanese.
Along with being an avid gardener, he has a strong passion for protecting the environment. If he had to choose another career path other than teaching, he would have liked to be an environmental activist.
"The world was here before people and it needs help; it needs protection from the Flordia state legislature," said Simmons.
As for his favorite food? A "very, very rare steak" is sure to please.