Cooking with AnnaBeth: Mini Carrot Cakes
With the spring season upon us, it is time for some spring-themed desserts as well. These mini-carrot cakes are perfect for an after-dinner treat or to bring to school to share.
CARROT CAKE INGREDIENTS:
1 1/2 cups + 2 Tbsp. vegetable or canola oil
1 cup granulated sugar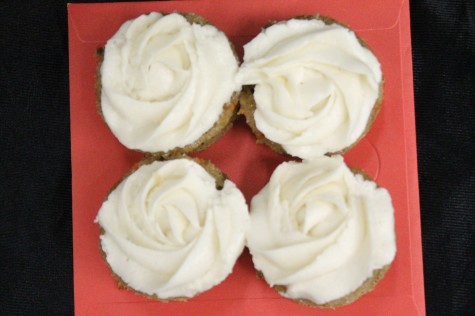 1 cup brown sugar
6 eggs
1 Tbsp. vanilla extract
3 1/4 cups flour
1 Tbsp. ground cinnamon
2 tsp. baking soda
2 tsp. salt
1 tsp. baking powder
1/2 tsp. ground nutmeg
pinch of ground cloves
1 lb. finely-grated fresh carrots
(optional: 1 cup chopped pecans or walnuts and/or 1/2 cup raisins)
DIRECTIONS:
Coat baking sheets (10×16 inches) with a thin layer of margarine and flour. Then cut waxed or parchment paper to fit in the sheet.
In the bowl of a large stand mixer, mix together oil, granulated sugar, and brown sugar until combined and smooth. Add in the eggs one at a time, then the vanilla, and mix until smooth.
In a separate bowl, whisk together the remaining dry ingredients (flour, cinnamon, baking soda, salt, baking powder, nutmeg and cloves) until combined. Add the dry ingredient mixture to the mixing bowl, and beat on medium-speed until just combined, scraping down the pan at least once to be sure that everything is well mixed. Then fold in the grated carrots by hand, and stir until combined. If you would like to add nuts and/or raisins, stir them in at this time as well.
Pour the batter thinly and evenly into the prepared baking sheets.  The cake will rise a fair amount but you don't want the cake to burn because it is too thin. Then bake for 25-20 minutes or until a toothpick inserted in the middle of the cakes comes out clean. Remove pans and let them cool on a wire rack until the cakes reach room temperature.
FROSTING INGREDIENTS:
1 cup butter, softened
8 cups confectioners' sugar
2 teaspoons vanilla extract
1/2 to 3/4 cup milk
DIRECTIONS:
In a bowl, cream butter. Beat in sugar and vanilla. Add milk until frosting reaches desired consistency.
ASSEMBLING THE CAKES:
Using a circular cookie cutter (the one I used was about 1 ¾ inches in diameter) punch out the cake. These will be your mini cake layers.  Apply a layer of frosting to the top of one layer and stack another on top.  (If your layers are really thin you could do up to three layers.)  You can then frost the whole mini cake or just the top like I did.  I used a decorating bag with a large star tip to add a cute element to these tiny treats.
Once you've made all the mini cakes desired you can pop them in the fridge until you're ready to serve them!