All Time Low Reaches an All Time High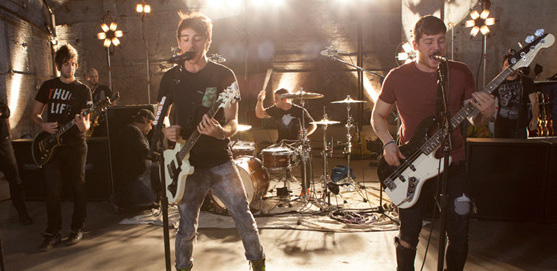 After an almost three year dry spell, All Time Low released "Future Hearts" on April 6. Future Hearts has kept the same sound that All Time Low is known for, not straying from its alternative style.
The album's first song, "Satellite," utilizes a bass guitar and a drum solo at the end that makes you want to move your head to the music. The lyrics give an insight into what it is like for a popular band to look back to when they were teenagers and just getting into the music business. It is a well written song and has a nice beat to it, making it one of my favorite songs on the album.
The second song is "Kicking and Screaming" and opens with a rock-like sound, but then turns into the typical All Time Low sound and personally, I love it. Plus, the lyrics have a nice flow to them and go well with the music. The song overall has more of a "rock" feel and is geared more towards people who like a loud bass and a lot of drum use.
Up next on the album is "Something's Gotta Give," the first song released. The song's music video features Alex William, All Time Low's lead singer, chasing a beautiful girl while dressed in a french fry costume. He later discovers that the girl is running from him because he is a zombie, so the girl shoots him. Overall, it is a really funny music video and, although I do not see any connection between the song and the music video, I am sure that the band has a reason for it.
The next song, "Kids In the Dark," really captures the essence of All Time Low. It's very catchy and manages to keep its alternative edge. It is my favorite song on the album. The lyrics have a deeper meaning than many of today's hits. The music video that goes along with the song manages to capture it perfectly. All Time Low managed to make a song that is very dark into something fun and not many people can do that.
The fifth song is "Runaways" and has romantic lyrics. The beat is very reliant on the drums, and William uses different pitches to his advantage. The song creates the perfect fantasy of running away with a rock star.
Next up is "Missing You" and as soon as the song starts, it is a noticeably slower song. They have traded their bass for an acoustic. It is not the best song on the album, but it shows that All Time Low is not always rocking out.
The track "Cinderblock Garden" has a very mild beat. The lyrics are very cute, being another romantic-like song, but it did not really speak to me like the other songs on the album. With that said, it is still a good song and has good lyrics.
Next is "Tidal Waves," which features Mark Hoppus and is another slower song. Hoppus' voice creates a nice harmony when paired with William's voice. This song is one of the best duets that All Time Low has done.
The ninth song, "Don't You Go," starts with a beat that resembles something that you would have heard in the early 2000's, but still holds the alternative sound of All Time Low. The beat combined with the lyrics of the song creates a really upbeat feeling when listening to it.
Next, "Bail Me Out" starts off like something you would hear on an Ed Sheeran album, but reverts back to their traditional fashion when the drums start. It features Joel Madden and his voice combined with William's creates a nice contrast. The lyrics are very funny and show yet another side of All Time Low.
The next song, "Dancing With a Wolf" sounds like a song from One Direction's album "Up All Night," but keeps an alternative sound with the bass and drums. This is a song that could make you want to dance around your room.
"The Edge of Tonight" sounds very "pop" until a minute into it, but it is a nice contrast to the usual sound of All Time Low. While usually a beat this pop-sounding would not go along with All Time Low's sound, this song works well with William's voice.
The last song, "Old Scars/Future Hearts" has a nice beat to it. The lyrics are very meaningful and gives a look at the feelings of the band members and their experiences. It has a very alternative sound to it most of the song, but has a hint of pop.
Overall, the album turned out even better than what was expected and is, in my opinion, the best album that All Time Low has created.