Barrett Blasts to All-States
Four year band member, Grace Barrett ('23), makes it to All-States for the fourth time.
Being selected to play in All-State is every band and orchestra kid's goal. But being selected for it for all four years of your high school experience is something no one has ever imagined happening. Grace Barrett ('23), the french horn/mellophone section leader for the Robinson band, is joining the Florida Music Education Association's (FEMA) All-State Band for her fourth year in a row.
Every year, FEMA chooses around 150 of the best students from all around the state of Fla. to be a part of a highly qualified and rigorous band. There is a very long and dreadful auditioning process, where one gets the piece of music in early May and has until late Sept. prepare and send in their audition clips.
"[Making it] definitely feels great as a senior," Barrett said. "There was a lot of pressure, especially since I'm going to college soon, but I'm glad I made it and I'm looking forward to playing in the ensemble for the last time."
Barrett has been involved in instruments for most of her life, but started focusing primarily on the french horn in sixth grade. Music has always been an important factor in her family's life, and she decided to follow in her sister's footsteps by joining band in middle school.
"I've been in band since sixth grade and my favorite part about it is definitely the various people I've met in different ensembles," Barrett said. "It's incredible to be able to play with like-minded musicians and it's just an awesome experience to share with other people my age."
When she got to high school, Barrett decided to pursue her interest by joining Robinson's band program. Having been in the program since her freshmen year, Barrett has made an impact in many different ways.
"Grace is just a perfect example of what a band student should be," Band Director Christopher Revett said. "She has a great demeanor and she is respected in the band and she really just brings great musicianship and personality to our program."
All this reward doesn't come without hard work. Having a heavy courseload on top of band and other extracurriculars, one can say Barrett is a pro at time management.
"It's more of a game of strategy, like figuring out what homework to do when what you can manage to do in school and how you can format it so it takes the least time possible," Barrett said. "My biggest achievement is honestly that I managed to go to bed before 10 p.m. the entire marching season.
Barrett, on the other hand, admits she wasn't sure if she'd make it this year. Due to her busy schedule, she hadn't had much time to practice her piece.
"I tried to take a more laid-back approach while auditioning this year, so I really didn't start preparing until about three weeks before," Barrett added. "I definitely doubted myself, which made it more difficult, but I worked hard and it was a nice surprise when I found out I was accepted."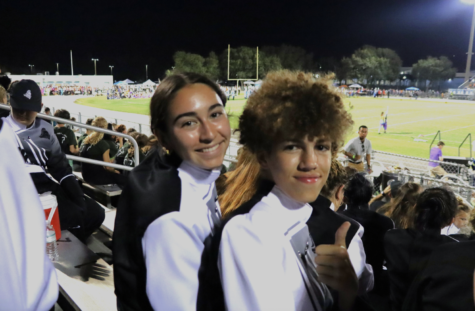 After high school, Barrett intends to pursue a degree in veterinary sciences with a minor in music performance, with the plan of keeping music in some aspect of her life.
"Grace really puts in a lot of time and effort and it shows through," Band Secretary Cereza Perez ('24) said. "It's amazing hearing her play and working alongside her, I'll definitely miss her next year."