Cars of the R: Trysten Higgins's 2006 Honda Accord
Trysten Higgins ('23) pops the hood of his 2006 Honda Accord, giving insight into one of the cars parked in Robinson's parking lot.
In the parking lot of Robinson High School, a Royal Blue Pearl 2006 Honda Accord is heard. Emerging through a cloud of kicked-up dust and a thunderous engine fit for a Florida storm, senior Trysten Higgins parks his car before heading into school. Apart from its pearlescent blue paint, Higgins's Accord doesn't necessarily stand out against the other cars in the parking lot—that is until you take a look under the hood.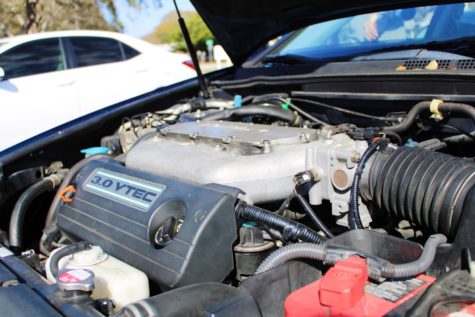 Higgins's infatuation with cars began even before he could get behind the wheel. In his uncle's garage, he observed the intricate insides of different makes and models, learning how to work on cars of his own.
"I think it's important and fascinating to know about what I get around in every day," Higgins said.
At 14, Higgins got his first hands-on project. "The first car I ever worked on was a 1997 Mazda FC Rx-7, belonging to my uncle. He had me pull the rear subframe to do a suspension swap onto another Rx-7 shell," he said.
With experience under his belt, Higgins began work on a car of his own: his 2006 Honda. "I have been working on and maintaining my car for almost 3 years now," he said.
When asked to describe his car in one word, Higgins responded with "surprising, due to its pep and luxury interior." Higgins's Accord sports a Magnaflow Exhaust, black custom wheels and a black leather interior. "I love the personality and creativity involved with customizing and upgrading your car," says Higgins.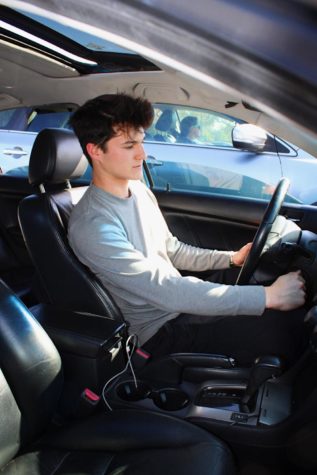 When it's not parked in the Robinson lot, Higgins shows off his creativity and personality by taking his Honda to car meets.
"A car meet starts off with a 7 am drive to my uncle, after meeting up with him and the rest of the guys we do the most fun part, the drive there," he said.
It is on the drive there that Higgins shares his favorite memories with his Honda.
"My favorite memory with the car is sending older sports cars to 'gappletown'," Higgins said. Gappletown is a common car culture phrase, used when the driver beats someone in a race by a lot—in other words gapping them.
On arrival to the meet, Higgins and other automobile aficionados park, walking around to check out other cars, talk to other enthusiasts and get inspiration for their own cars.
Higgins's inspiration won't stop at his blue 2006 Accord, as he's already started a new project.
"I have recently purchased another Honda Accord, it is a 5-speed manual transmission with a k-series motor. I plan to drive it through college, doing my own maintenance. After college, I will turbo the engine and do performance-supporting mods to make it a fun daily driver," he said.
Nevertheless, the 2006 Honda Accord will always hold a special place in Higgins's heart.
"My car is special to me because it is the best first car I could've asked for. This car has shaped my automotive understanding and passion."