UNICEF Club Asks Students to Sign Petition
November 20th marks the 25-year anniversary of the Convention on the Rights of the Child (CRC). This document serves to provide governments with an outline on how to best protect the rights of children and families. It asserts that children around the world should be protected from abuse and exploitation. However, the United States has not ratified the resolution.
The UNICEF club of Robinson High School has decided to take this issue to the students.
"
We wanted to bring the petition to our age group to get them involved"
— Cameron Ramey
"People involved in UNICEF teach others," said Cameron Ramey ('16), president of the club. "We wanted to bring the petition to our age group to get them involved."
An argument against US ratification is that the treaty could supersede federal and state law. According to childrightscampaign.org however, all human rights treaties signed by the United States contain a "non-self-executing" clause. This means that without specified legislative action, the resolution cannot be binding.
"There's a lot of misconceptions about the UN, about signing a document like that.  A lot of people believed that it would overpower our constitutional rights," Ramey said. "People don't want to have to answer to an international body… the website helps people understand those misconceptions."
At every lunch this week, the UNICEF club has asked students to sign a petition for the president of the United States.
"The goal is to get President Obama to submit it to Congress again because it was once [but] it went halfway through and didn't make it."
Ramey and many other proponents of the CRC hope that Congress will eventually ratify the resolution. Only Somalia and the United States have not joined the 193 other nations who have recognized it.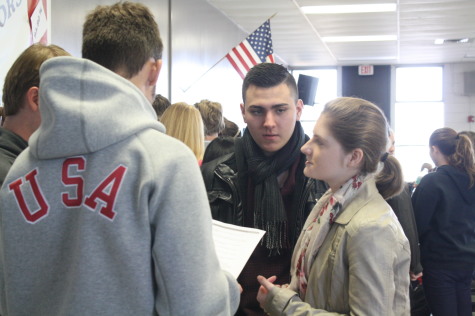 The top priority of the UNICEF club is to simply raise awareness.
Ramey said, "It's not like, you know, a hundred signatures from a high school are going to suddenly get this document ratified but it's supposed to teach people and get the word out."