Students jam out at the Poetry Jam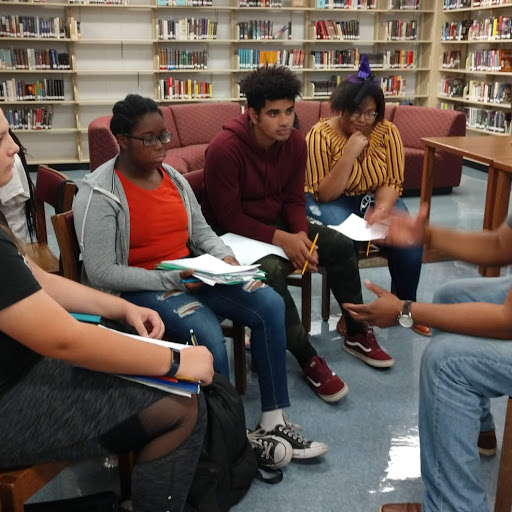 Among Robinson's many extracurriculars and contests, there is one that is typically overlooked: the poetry jam. The event aims to give students a safe space to express themselves through poetry. Poetry Jam gives students a chance to interact with and learn from a guest poet, as well as write and perform their own works.  This year, the guest poet was Walter "Wally B" Jennings.
Jennings is known not only for being a poet, but for starting a young adult spoken word group and traveling the nation with a competitive team.
"He creates a safe space faster than anybody else I've ever seen," Library media specialist Lee Gibbons said.
The Poetry Jam is special because of the environment that it provides for its participants. Not only do students learn about poetry itself, but they get to present poetry in a comfortable space.
"The students really rally around each other, if someone hesitates or gets lost, there's even more encouragement. You know, very positive," Gibbons said.
This year, Robinson's Poetry Jam had three winners who will move on to represent our school at the district Poetry Jam in January: Kimberly Appleton('19), Destiny Thomas('19) and Mikia Burney('20). One of the winners, Kimberly Appleton, recommends the event to anyone with an interest in poetry and spoken word. She says she enjoyed how loud the Poetry Jam was.
"It's made me connect with more people, I suppose. There's a lot of people there. We all felt what was going through the poems," Appleton said.
While Poetry Jam may not be advertised as other events at Robinson, it certainly is one to consider for those with an interest in spoken word, or those who simply want to improve their public speaking.
"It's one of the highlights of the year for me," Gibbons said, "I see people who I never thought would have the nerve to get up and talk, speak."