The battle of the holiday flavors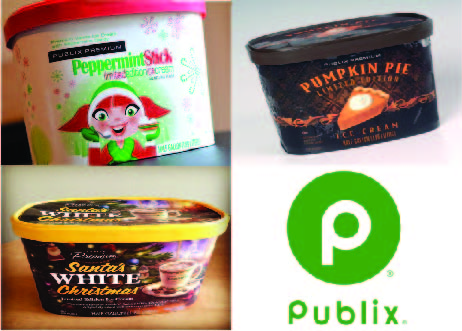 With the holidays in full swing, Publix has put out its holiday ice cream flavors: "Peppermint Stick", "Santa's White Christmas" (coffee flavored), and "Limited Edition Pumpkin Pie".  After sampling each flavor, I narrowed the limited edition treats down to the top flavor of the season.
Starting off strong is the "Peppermint Stick"  ice cream; which is basically vanilla ice cream with red and green peppermint bits. I will say it isn't an overpowering flavor of peppermint akin to eating tooth paste, but it does satisfy if you are looking for a nice peppermint flavor. However, my opinion may be a little biased because I have a soft spot for anything peppermint flavored. But even without my aforementioned  bias, the ice cream stands out as a strong contender.
Next we have the "Santa's White Christmas", which isn't what it sounds like at all. The name suggests a different iteration of vanilla, but it turns out to be coffee. The flavor for sure satisfies a distinct urge for coffee if you so desire. But compared to the peppermint flavor, ; "Santa's White Christmas" falls short. In all honesty, I am just not a big fan of coffee flavored ice cream but if you do like coffee then you should definitely try this one.
Finishing off the flavor filled trilogy, we have the "Limited Edition Pumpkin Pie" ice cream, which is by far the best flavor at Publix. It has just the right amount of pumpkin flavor to not be overbearing. It stands above the rest fore sure, no argument should be able to sway this as lesser than the other two flavors. Even though peppermint has always been a favorite of mine, this flavor took me into a new world of pumpkin. I highly recommend getting this flavor for yourself and your family this holiday season if anyone remotely likes pumpkin pie. Also go ahead and get some pumpkin pie to put the ice cream on top of because that is just a match made in heaven.
This holiday season, you can't go wrong with any of the Publix limited edition ice cream flavors. But if you find yourself by the ice cream aisle, I highly recommend grabbing a quart or two of pumpkin pie ice cream for your family, and if you're feeling generous, grab a quart for me too.