10 Non-traditional movies to watch this fall
Tired of watching the same movies every year? Check out this list for some new ideas!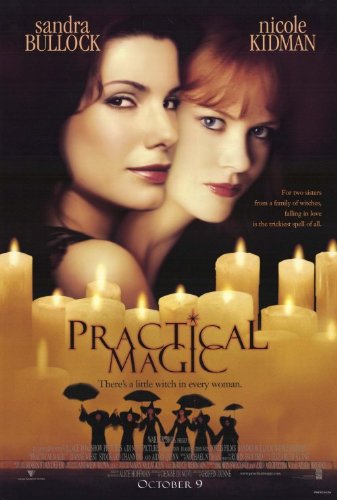 October is here, and even though it's still 80 degrees outside, autumn resonates in our hearts. One of the best ways to get into the spirit is to curl up under a nice blanket with a cup of cider and watch some movies. But if you're tired of watching the same things year after year, here's an updated, non-traditional, list of movies to check out this season.
Practical Magic
Based off the 1995 novel by Alice Hoffman, Practical Magic is a comforting story about sister witches Sally and Gillian Owens. Adapted into movie format in 1998, the story focuses on the relationship of the Owen's family women as they learn to appreciate each other and their magic – all while trying to resurrect Gillian's toxic boyfriend before the cops catch them.
The Craft
Another witchy movie, The Craft focuses on Sarah (played by Robin Tunney) as she moves to LA and finds her telekinetic powers. Upon finding out about the girls gift, three other witches seek Sarah out to convince her to become the fourth member of their group. But when a minor spell causes major disturbances, the girls go power mad.
Dead Poets Society
If you're not into witches, but rather school dramas, these next three are for you. Dead Poets Society tells the story of a 1959 boarding school teacher (Robin Williams) as he inspires his students through his poetry class.
Good Will Hunting
Similar to Dead Poets Society, Good Will Hunting revolves around academics – only this time there's young Matt Damon. And math. Lots of math.

Mona Lisa Smile
Also taking place in the 1950s, Mona Lisa Smile tells the story of feminist art teacher Katherine Watson (played by Julia Roberts) as she moves to the east coast to spread her knowledge and opinions to the young women of Wellesley College, tempting them to challenge the lives they are expected to lead as women in the 50s

Julie and Julia
Cooking has always been a big part of fall. Julie and Julia follows the journey of Julie Powell as she embarks to prepare all 524 recipes in Julia Child's cookbook "Mastering the Art of French Cooking". This movie intertwines the lives of both Julie and Julia, showing two different time periods, as they each master the art of French cooking.
Eat Pray Love
Following the trend of food, Eat Pray Love tells the story of author Liz Gilbert (played by Julia Roberts) as she travels the world not only to find herself, but also to eat, pray, and love.
Legally Blonde
After being dumped by her boyfriend for not being serious enough, sorority girl Elle Woods (played by Reese Witherspoon) gets into Harvard Law to prove just how smart and serious she can be.
Clueless
Cher, shallow and rich, loves to dabble in people's lives. After giving new student Tai a makeover that goes wrong, Cher realizes how misguided she is. The movie is also loosely based off of Jane Austen's Emma. How much more fall can you get than Jane Austen?
The Sixth Sense
This movie has an excellent mix of horror, drama, and love. After getting into a fatal accident caused by one of his patients, Dr. Malcom Crowe (played by Bruce Willis) tries to get back on the horse and help young Cole Sear with his problem. What's his problem you ask? He sees dead people.