Flag Football Wins Third Straight District Title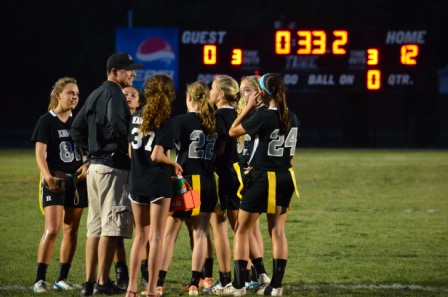 Whenever Robinson and Plant High School meet up in a sports matchup, the games are the talk of the town, and fans are excited to see the Knights and Panthers go head to head. The two South Tampa schools have had a heated rivalry for years, if not decades. Flag football may not be considered a "traditional" sport that comes to mind when reflecting on a rivalry but the girls still took this game as serious, if not more, as any other game.
On Wednesday evening, the Knights hosted the Panthers as they battled for the District 14 title and bragging rights.
The two teams had played each other earlier in the season, in which the Knights won.
The game began with an interception thrown by starting quarterback Erin Dorsey ('15).
The Knights did not let this rattle them. Their defensive unit forced a turnover on downs, which led to a touchdown pass by Dorsey to Samantha Ishee ('15) with six minutes left in the first quarter. The second quarter was scoreless and the Knights led by a score of 6-0 going into halftime.
With passes being dropped left and right, emotions running high, and fans cheering, it seemed both teams were relying heavily on their defense. Whichever team came up with the big offensive play would win the game.
"All I need is a touchdown," said head coach Joshua Saunders with 26 seconds left in the third quarter.
With only a few minutes left in the fourth quarter, Saunder's wish was granted.
Dorsey lined up to take the snap, then threw a pitch towards captain senior Kylee Gorngpratum who was running on the right side of the field. Gorngpratum then threw a risky pass across her body towards the middle of the field where junior captain Amanda Chromiak lied waiting for the football. Chromiak than ran the ball into the end zone.
"There are NFL quarterbacks who can't even make that pass," said one of the three referees.
The Knights won the game by a final score of 12-0.
They also set a school record by finishing the regular season undefeated and, up to this point in the season, the defensive unit has given up only 14 points, with a record of 14-0. Their next matchup will be Bloomingdale at 3p.m. on Saturday, May 3rd at home.