Rogers Commits to UF
Distance running standout Jack Rogers ('15) signed a national letter of intent with the University of Florida in the principal's conference room earlier this morning. Rogers, who plans on running both cross country and track for UF, is the first of Robinson's graduating senior class to sign this year.
"I'd like to thank Coach for always supporting me, my teammates, and all of my parents," said Rogers.
Rogers holds school records in the 1600 (4:17.43) and the 5k (15:44). He is a three time state qualifier in both track and cross country. Rogers placed 5th in the 1600 in last year's state track meet, where he set the school record, and 17th in the Cross Country state meet last Saturday in a time of 16:00.50.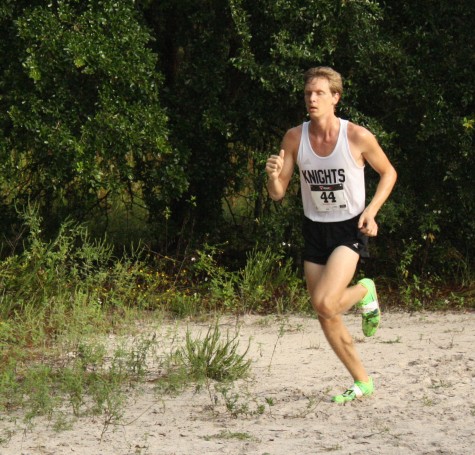 "This has been three years in the making for Jack. This is something we talked about from his sophomore year on and he's never wavered from it," said Coach Mark Altimari. "Florida's been a good pick for him, Florida's been in his sights, and Florida recognized what we all recognized about Jack and his athletic ability."
Rogers is a two year captain of both the cross country and track teams. He also is a five-time district champion individually: 2013 and 2014 in cross country as well as in the 800 and, in 2014, the 1600. He was also apart of the boys cross country team, which has won two straight district championships.
"
I'm proud of him, couldn't be more proud."
— Coach Altimari
"[Signing is] huge, that can't be underscored enough, how big a situation this is for Jack, going into UF, signing with the guys he's signing with, and a testament to what he's done. A testament to his dedication, his commitment, his academics, his athletics, all the way around," said Altimari.
"I'm proud of him, couldn't be more proud. I just want to congratulate him and point out that this doesn't happen without all the hard work from all the people in this room- his parents, his administrators, his teammates. This is a group effort and congratulations Jack."