Sixth-Inning Magic Continues, Knights Beat East Bay 7-0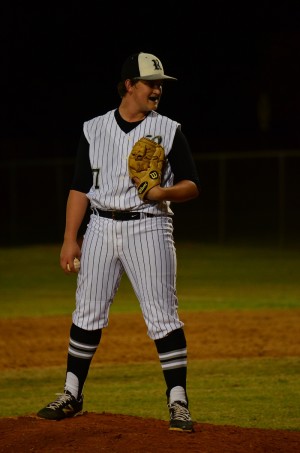 On opening night, Robinson trailed Plant until a sixth-inning rally. Two nights later, they trailed Newsome until a sixth-inning rally. The Knights wrote another chapter in that magical sixth-inning story on Thursday night when they sent twelve batters to the plate and pounded out seven runs to break a scoreless tie.
For much of the night, the Knights and Indians were deadlocked at zero. Michael Tini ('16) got the start for Robinson, going through the East Bay lineup with relative ease. Opposing him on the mound was Darius Sillart ('15), who struggled his way through the first three innings before settling in. Tini tossed six scoreless innings, carrying a no-hitter into the sixth before it was broken up by a bunt single. The right-hander picked up his third win of the season while lowering his ERA to 0.68.
"My defense is helping me out a lot and I'm very thankful," said Tini.
Though Robinson's pitching and defense was lights out all night, they could not cash in on scoring opportunities in the first three innings. It was not until the fabled sixth inning did the Knights come through, and they came through in a big way. Matthew Steckel ('16) led off with an infield single before Mitchell Tozian ('16) and Tommy Craparo ('15) both reached on bunt singles. Four runs came in on singles by Omar Maldonado ('15), Shawn McGory ('16) and Jacob Jackson ('15). Darius Autry ('15) then delivered a two-run triple to extend the lead to 6-0. He came in one batter later for the seventh run of the frame.
The sixth-inning offensive outburst was just another in a line of late-game rallies, but it was all about Tini's continued success on the mound on this night.
"[I'm] super happy," said head coach Kevin McCray. "He couldn't be a nicer kid and I'm glad to see him having success."
The Knights are now 7-2 as they head into the Saladino Tournament this weekend. They open the tournament with Strawberry Crest on Saturday at Jefferson High School.