Baseball Schedule Released for 2016 Season
The random cold snaps are here. Soon, the lights at Lou Garcia Field will come on (as long as there's no repeat of 2014) and baseball season will get underway. After a historic 2015 season that saw Robinson beat Plant for the first time since 2006, win their first regional title since 1977 and make an appearance in the state semifinals at jetBlue Park in Fort Myers, the Knights lost 12 seniors.
A new lineup and pitching rotation will be in place when the Knights take the field for the first of two preseason games on Feb. 3 against Santa Fe Catholic. The following night, Robinson will take on Haines City. Despite such a massive roster turnover, the team is anxious to hit the field once again.
"[We want] to win districts and make it back to states," said Matthew Steckel ('16), who hit .385 a year ago. "We have key returners and if everyone plays to their capability, we have a good chance."
The regular season will get started at Steinbrenner on Feb. 9 before the Knights' home opener on Feb. 11 against Jefferson. The first of two district matchups with rival Jesuit comes at home on Feb. 23 before the Knights make the trip up Himes on Apr. 5. Robinson is searching for their first win over the Tigers since Mar. 4, 2008.
The Knights, who beat rival Plant 6-2 to open the 2015 season, will hit the road on Mar. 31 to take on the Panthers.
Robinson's longest homestand of the season is three games, from Mar. 22 until Mar. 29. In the 19-game regular season schedule, there are nine home games and 10 games on the road. The district tournament will be held from Apr. 18 until Apr. 21 at Jefferson High School.
The full schedule can be viewed below.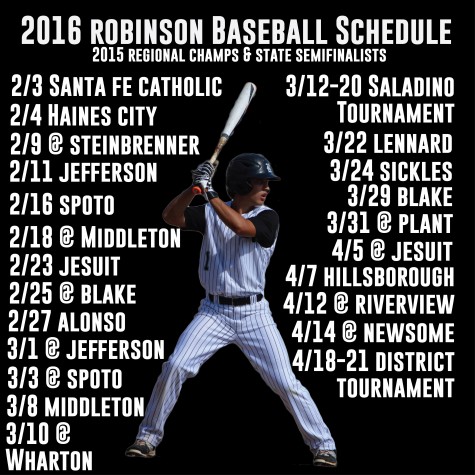 Graphic by Isabel Hanewicz