'Mark H' Makes Their Mark
With a love for music, Robinson student, Naomi Sullins ('23), and her friends start a band outside of school.
We all have wanted to learn to play the drums and start a band at one point in life. Having been involved in music ever since she was little, Naomi Sullins ('23) made her dreams come true when her friends and she started their band, Mark H, during the early stages of the COVID-19 pandemic. 
"We started the band in Sept. 2020," Sullins said. "We all took lessons at School of Rock and played in groups there and we'd been friends for a while, so we decided to try and write our own music."
Mark H currently consists of four members. Sullins is the only member of the band who attends Robinson at the moment. Both the lead guitarist, Ryan Jenkins ('24), and drummer, Miles Griggs ('23), attend Plant High School, while the bassist, Luka Gudelj ('22), graduated from Robinson last year.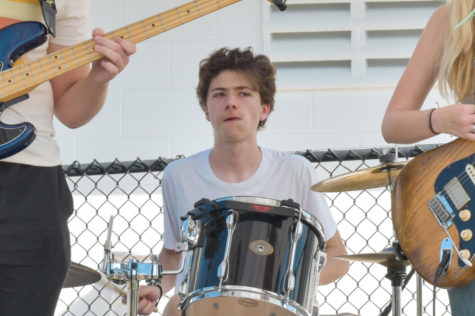 "I really enjoy being in a band [with them]. It has brought me closer to my fellow band members and despite the fact we go to different schools, once we had a regularly scheduled date and time to practice, it was pretty easy," Griggs said. "My favorite memory was when we played live in my backyard after Hurricane Ian. We set up a couple of chairs and invited some friends and just played music for about an hour."
The idea of starting a band began because of their collective love for music. From a young age, the four have been obsessed with many genres, with a fixation on classic rock. As they got older, began to branch out and gain more knowledge about their instruments. Although all of the songs from the Mark H band are different in style, they primarily concentrate on the "Indie pop-punk" subgenre.
"It honestly started as a joke between all of us that got more real until we all dropped things we had in order to pursue MarkH because it seemed like something that could actually work out and us a good time," Gudelij said. "I would say the genre we play is Post-Beck DIY Indie Pop/Punk because just pop or punk couldn't fully encapsulate our range of writing."
Not only is being in a band fun, Sullins feels that it has helped her reduce the stress she feels as a senior in the IB program; being able to play an instrument serves as a weekly outlet for her, since it's something she doesn't feel forced to do.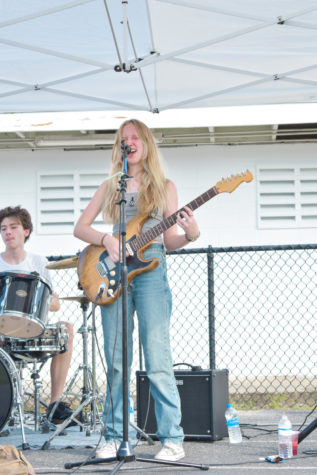 "At the moment, IB is taking over the majority of my life. However, I probably lose my mind if it was the only thing I did," Sullins said. "So I have been pretty easily motivated to go to our weekly practices. It definitely helps if you're friends with the people in your band because practices function both as a musical outlet and a way to have a social life." 
Despite everyone's busy schedules, all four of them meet every Saturday to make music and just have a fun time in general.
"I really like that my friends and I can just agree to meet every Saturday to practice and write," Sullins said. "It overall makes practicing an instrument much more enjoyable."
Mark H performed Saturday, Nov. 5 at Robinson's Fall Festival. Being the first gig in a while for them, the four members were excited to play live and become more known in the Robinson community. The band played songs like "Kyoto" by Phoebe Bridgers and even one of their original songs, "Sharknbear."
"I feel that Mark H is special because they truly care about their music and what they are doing," Lauren Yoakum ('23) said. "It's not about an 'image' or some fan archetype that they're trying to obtain. I like them simply because they're really good at writing music, but also because they're good at displaying it and really conveying that the band is something they're truly passionate about. They're releasing their first album soon, so they're definitely providing something to look forward to."