ISSUE 3: Heckman Reaches for the Stars
RHS Senior Payton Heckman writes and produces an EP all by himself.
Music is a big part of everyone's lives, but to Payton Heckman ('23), it holds a special place in his heart. A lifelong music enthusiast, he did not hesitate when he came across an opportunity where he would be able to create his own music. Made from the comfort in the corner of his bedroom, "The Starchaser" is a pop-punk rock EP that was released on Friday, Feb. 24 with an analogy for growing up.
"I guess the short story is that I've always had a love for music, and have always dreamed of being in a band, but it wasn't until the last few years that I discovered that I could actually write music myself," Heckman said. "So, I figured that it was worth a shot to at least try my hand at music production and put something out before I graduated."
The process didn't come easy for him. Like many, Heckman wasn't familiar with the process of producing and recording music at all. Countless YouTube videos and tons of practice later, he managed to teach himself most of the basics; but being only a senior in high school, he had limited access to high-quality equipment as well as a tight budget for resources.
"When it came to recording, I ran everything off of [the] computer in my bedroom. I recorded all of the guitar and bass guitar parts during the day, and I would record all the vocals either at night when everyone is asleep. Some parts were simple and could be recorded in 30 seconds, and some parts took thousands of takes," Heckman said.
Not only were there technical difficulties, but Heckman also found it difficult to physically put his thoughts into words, as well as structure the EP to make sense altogether.
"The process is different for everyone, but I found that I struggled with lyrics a lot when it came to writing about abstract concepts and feelings. I ended up creating a very literal, albeit brief, story that the EP follows," Heckman added.
Another important part of any song is the background vocals. When Heckman needed backup singers, his friends did not hesitate to step up to the challenge.
"Being one of the background vocals was so much fun for me. It was amazing being able to help with the vocals, especially since I've been waiting to hear the EP for so long," Jayden Fernandez ('23) said.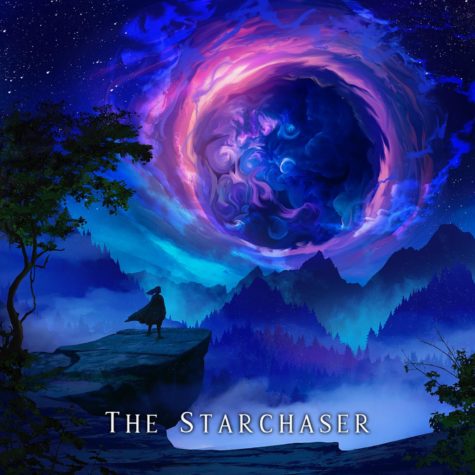 "The Starchaser" serves as a special project for him. Not only is he doing this for fun, but he wants to be able to capture these last moments before moving on to the next chapter of his life.
"I'd be lying if I didn't say I made this EP for myself entirely. I didn't write it to appeal to anyone else's music taste or to show off; I just wanted to prove to myself that I could really commit to a huge challenge like this," Heckman said. "So y'know, if it somehow blows up. then great. But if it totally flops, then that's alright too."
Despite all the challenges, Heckman was still able to produce these pieces that showcase his musical prowess and creative vision. With his love for writing and producing, fans can anticipate more projects to be released in the future.
"I've been so excited for the EP ever since fall when it was supposed to be out. I've always had similar music taste to Payton and he's asked me every now and then about the music, so finally being able to hear it will be a blessing," Jake Hatton ('23) said.