Taft Takes the Teacher of the Year Title
John Taft, U.S. History Teacher, named Robinson High School Teacher of the Year.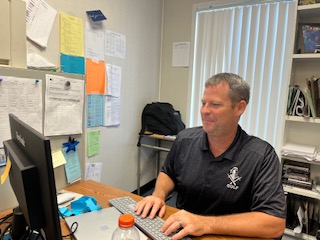 The teacher of the year title, also known as the Ida S. Baker award, was put into action in honor of the founding principal of cape Coral High, who was also an administrator at the Florida Department of Education. Her contribution to the community was extraordinary, and this is an award of much prestige and honor to the recipient. This year it has been bestowed upon U.S. History Teacher John Taft.
Despite having only taught at RHS for three years, Taft already won over the heart of staff and students. During his time teaching, he found a love for his subject and students, his main goal being to help students nurture a love for his passion, U.S. History. His caring nature encourages students who dislike this subject to give it a second chance as soon as they walk into the classroom.
"Hopefully some of what I care about when it comes to history rubs off on [my students]. Just seeing their eyes light up if I'm talking about something that they enjoy," Taft said.
He works hard to make sure each student understands and enjoys the subject. His current students, who have only had him for a month have already taken a liking to his teaching style and feel more motivated in the class than ever,
"Last year I did terrible in that class, I almost failed. This year I have an A in History and I love it. To me, it's the teacher," Zayne Amos ('23) said.
Taft always wants to make sure that each student is represented, that their personal needs for the class are met. He tries to teach in a way that helps students grasp the subject and cultivate a growth mindset.
"He deserves teacher of the year because he puts so much effort to make sure that we're doing good, and if you're not doing good, he works with you. His teaching style is so good, it's so unique," Seth Carlson ('23) said.
He didn't save all the charm for students though. He is all about building positive relationships with everyone around him, including staff. A big part of his personal belief is the golden rule, treat others the way you want to be treated.
"If one of [the teachers or other staff members] comes to me, and asks for help, or asks me to cover a class, I would want the same thing in return, so I almost never say no," Taft said.
Taft continues to better the classroom experience of his students and contributes to creating a better environment by helping anyone who needs it. Fellow teachers and staff control who gets this award, making Taft a community-nominated recipient.
"It's a huge honor. It's a really cool thing to know that my peers think so highly of me," Taft said.