ISSUE 4: Ruyle the Stage: Maddy Ruyle Directs Her First Play
The curtain rises on Ruyle's show April 21.
In a small office space at the Patel Conservatory, Maddy Ruyle ('23) and her co-director Francesca Werner ('23) ran rehearsal for their performance of "The Children's Hour." She kept her script in front of her on a stand, following along with the lines her actors spoke. She wrote a few notes—"little things, picky things" as Ruyle describes it—in the margins of the script to give once the scene was finished.
However, this run-through of the scene wasn't as smooth as it could be. During this rehearsal, two of the lead actresses, Robinson's Ingalls Witte ('23) and Sickles High School's Abby Turlington ('26), couldn't be in attendance.
"Conflicts come up all the time, whether be someone can't get a ride or… some of the lead actors were sick. Obviously, this can set us back as we have [a] schedule set to run certain scenes each week, and with people missing; we think on our feet and adapt to work on other scenes…" Ruyle said.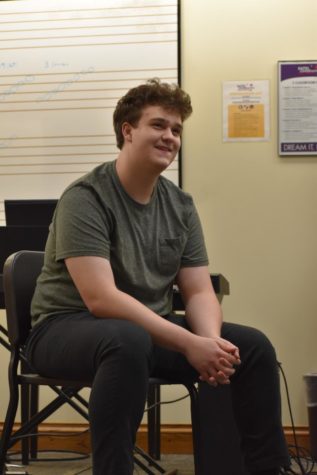 So, to improvise, Ruyle worked on characterization with the actors for the majority of the time. She decided to make it fun, playing different games with the actors to pull out their characters' personalities. The actors circled the room, walking around as if they were their characters. Then, Ruyle asked them about how their day went in three different ways (all crucial to the plot).
"[Ruyle and Werner] are… the coolest directors I've ever worked with. They're not too strict but also not too laid back. We've only had a few rehearsals and we've already blocked the whole show and ran through everything. It's going to be great," actor, and Blake High School junior, Alex Rodriguez said.
For Ruyle, directing this play is a crucial part of achieving the certification from the conservatory. It's called a senior capstone, which is the final project that the seniors experience. The seniors select and adapt pieces while being in charge of casting, the rehearsal process and all other elements necessary to make a successful play. Ruyle decided to work with Werner, another senior at the Patel.
"I have known Francesca [Werner] for many years and have been in many performances with her. I knew that working with her would be perfect because we both have different perspectives, but we both respect each other as artists. We knew we were taking on a big task by putting on a full-length play so being that we both are earning certifications, we decided to come together to direct the play with help from each other," Ruyle said.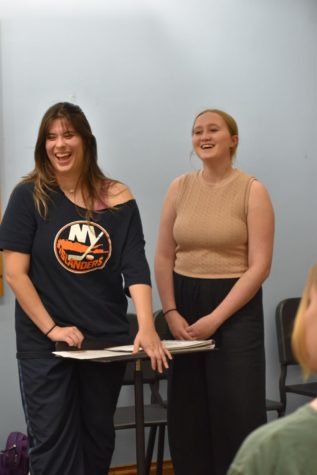 Together, they chose the play "The Children's Hour" by Lillian Hellman, which follows two women, Karen Wright and Martha Dobie, who run a boarding school together. Mary Tilford, a mischievous girl who attends the school, tries to not return and twists the narrative that the women are having a secret lesbian affair to her grandmother, Amelia Tilford. The following events are caused by this rumor and the destruction of these two women's reputations.
"Going into my capstone project, I really had no clue what to do, but, Francesca and I knew that we somehow wanted to showcase a story that featured in some way the LGBTQ+ community. We did… a bit of research, and once we came across "The Children's Hour", we were both instantly drawn to the storyline and how it is a classic dramatic play, based off a true story," Ruyle said.
Werner echoed a similar sentiment about the play's importance.
"We both wanted to do something that would bring an impact the audience and had the idea about something "contemporary" and something still on the fence in our society now, but it's still talked about. We… came to the conclusion that being able to tell an LGBTQ story would be important to show how as a society we have grown since this play has come about," she said.
A director can't do a play without any actors, so Ruyle needed to find other teenage actors around Tampa to fill the roles for this play. To her, casting is "the most important decision in this whole process" and it all starts with the audition.
The audition process was an open call, which meant anyone, not just Patel Conservatory students, could audition. Ruyle reached out to others she performed with before but also had social media posts with information regarding the audition (the Patel also posted this information to their students as well). From there, she acted like any other director would, sitting in on auditions with the actors to see the potential for them to play any of the characters. She did callbacks the same night as auditions, having those read directly from the script. Throughout, she was finalizing decisions and helped actors with their portrayal of the characters.
"With some actors, after reading just once for a character, we could automatically make a decision as their choices in acting were spot on and drew us into their potential for a character. For others, we coached them or swapped them in and out to read for many characters to see where their talent would align the most. When making a very difficult decision of multiple actors up for one part, I think what makes my decision every time is the ability of the actor to deliver the emotion behind the words. it's one thing to read the lines given to you, but it's another to really go for it and show emotion through your gestures, tone of voice, your breathing, etc." Ruyle said.
Ruyle and Werner cast three Robinson students in her play: Ava LeClair ('23) plays Mrs. Amelia Tilford, Aurora Stuckey ('24) plays Mrs. Lily Mortar and Witte plays Karen Wright.
"Maddy had told me all about this project that she was doing… she thought it would be a good idea if me and some other people from our theatre troupe [Troupe 2660] auditioned and got to experience theatre outside of school," LeClair said.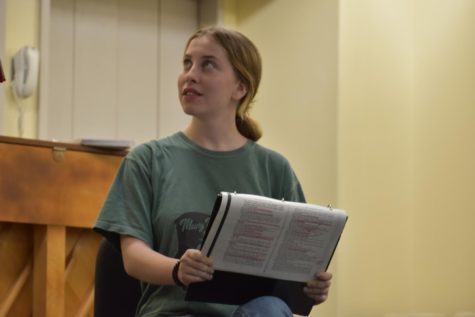 They also cast students from schools beyond Robinson such as Plant, Sickles and Blake High School. Tia Olivia ('23), who plays Martha Dobie, is from Plant High School and hadn't performed in theatre for a long time, however, she's felt at home in the environment Ruyle created in her rehearsals.
"This is my first time being directed by Maddy, and she's genuinely the sweetest. She always makes sure the actors are comfortable and welcomed and she does it all while still keeping us on track and improving…" Olivia said.
Even through the occasional laughs from watching their actors walking around a small office space and having to fill in for the absent actresses, Ruyle and Werner press on through their rehearsals. They want to give the true story justice and make the audience think and reflect on what it has to say about society. With their own previous theatre experience, they can help their actors and explain their vision for this project.
"I have loved performing in musicals and even helping backstage with shows, but I have never been able to take on a directing role… in a production. I never really saw myself [doing that], but during this process and working with [Werner], I have grown to love the artistic freedom that comes with it and really making a play your own through directing," Ruyle said.
"The Children's Hour" premieres for one day only at the TECO theatre on April 21.