Flying High in Robinson's Aerospace Program
Sitting in Aerospace teacher Jeff Kaloostian's class learning about some of the basic principles of aerospace, student Megan Binette ('17) is a little bit bored, but not for long. Since her first day in the class, Binette has felt an instant connection with aerospace.
"Coming into Mr. K's class sophomore year, I sat almost in the middle of the room and I kind of just talked to everyone who had taken his class before," Binette said. "It was so cool because they were all so interested in it, so it was nice that other people had the same interests and wanted to do almost the same things."
Robinson is the only school in Hillsborough County with an aerospace program. Last year, thanks to a partnership with Embry Riddle Aeronautical University in Daytona Beach, the program was able to acquire flight simulators and drones as well as begin to provide opportunities for college credit courses in the field.
Kaloostian began teaching aerospace after 28 years of active duty in the Air Force as a pilot. During this time, he had the opportunity to fly planes from the B-1 bomber fleet not long after they were released.
"It smelled like a new car," Kaloostian said. "It was very challenging to stay on top of when [I] flew it in the missions but overall, it was a real fun part of my career."
During his service, Kaloostian became very comfortable with maneuvering large planes. Several times, circumstances forced him to take evasive action as he found himself in life or death situations.
One time, Kaloostian and his comrades were flying when the plane got flipped upside down. They were in a thickly clouded area and had no way of knowing their distance from the ground. Kaloostian decided that if they were not out of the clouds when they got right side up, he was going to eject. Thankfully, they had enough time to land the plane, but Kaloostian still remembers his feelings in that moment.
"It kind of made me realize how fast you can make a decision with an airplane," he said.
Now, he is able to apply these experiences from active duty in the classroom. He recounts his near-death experiences as cautionary tales, explaining how an airplane flies and why it performs as it does in certain situations. On a daily basis, he gives students a basic understanding of information and helps them apply this information and execute their learning in real life scenarios.
However, as Binette sits bored listening to Kaloostian's lecture, her boredom is perhaps a testament to the effectiveness of Kaloostian's teaching methods, as she's already learned so much.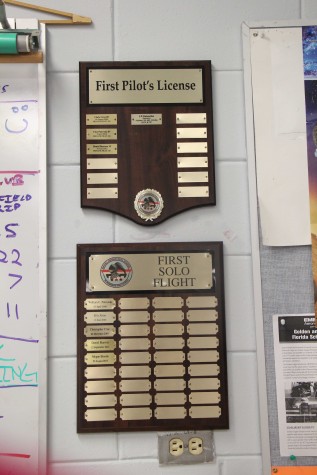 Binette is a second-year student of Kaloostian's aerospace class and was involved in the STEM program at Madison Middle School. After starting Kaloostian's class, she found a nearby airport and began working with an instructor to learn the skills required to fly a plane.
Last summer, on the day of her sixteenth birthday, she was able to acquire her solo flight license. Kaloostian had the opportunity to watch her take off, alone, for the first time.
"It was wonderful because I remember the first time I soloed in a little airplane," Kaloostian said with a smile. "I didn't solo until I was a senior in college but [watching Megan getting her solo license] just took me back to the memory of my first solo and how anxious and nervous I was."
Binette recalls the excitement and adrenaline associated with this flight, but also the sense of ease she got from being alone in the air, among the clouds.
When she talks about aerospace and flight, her passion is evident.
In her stories, she drops the names of planes and equipment like hot potatoes. And she attributes at least part of her knowledge of the flight jargon to Kaloostian's aerospace program, which she defines as a major part of her life at Robinson.
"It definitely brings a diversity of things to do," Binette said. "You have your culinary, you have your drama, you have your sports, but most schools don't have an aerospace program. Not everyone can become an actor or athlete, but there are always jobs open in the aerospace and technology field."